Description
INDIVIDUAL TACTICAL FIRST AID BAG
This compact and smart individual first aid bag stows neatly in the glove compartment of your vehicle or can be attached to your bag. 
This first aid bag folds out all the way and offers, with all its pockets, a good overview of the contents. It is convenient and easy to carry this medical bag everywhere with you.
ADVANTAGES
✅ Strong & Designed to Last!
✅ Easy To Attach with its Compatible Molle Straps! 
✅ Smart Compartment System! 
✅ Water-Resistant! 
✅ Easy to Detach and Re-attach from your Bag!
✅ Equip this First Aid Bag Yourself!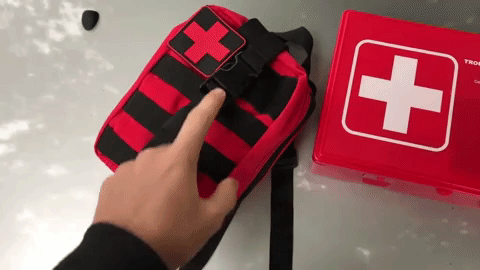 STRONG AND WATER-RESISTANT
Made from strong 600D nylon, this first aid pouch is water-resistant. It also features quality zippers and a large exterior strap to compress the pouch.
COMPACT, EASY TO ATTACH TO YOUR BAG
This first aid bag is compact, making it ideal for outdoor activities or tactical situations. The handle allows the user to hold it easily. In addition, it can easily be attached to a backpack thanks to its molle-compatible system.
ORIGINAL D RING DESIGN
The original D-ring design on the back of the bag provides flexibility and allows you to quickly detach and reattach the first aid kit from its holder.
SMART COMPARTMENTS SYSTEM
This first aid bag opens completely to show you all of its contents, allowing you to quickly find what you need in an emergency. It offers 3 separate compartments with spacious pockets and strong elastic loops for attaching your gears.
SPECIFICATIONS
Height: 21cm | Width (Closed): 10cm | Length (Closed): 15cm | Material: Waterproof 600D Nylon | Available in different colors.
CONTENT DETAILS
HOT DEAL
🏷️ BUY 2 = GET 5% OFF
🏷️ BUY 3+ = GET 10% OFF
FREE GIFT

OUR GUARANTEE
✅ Estimated Delivery Time: 10-20 days.
✅ Money-Back Guarantee: You risk nothing.
✅ Invest in Quality: 99.3% of our clients recommend this product.
✅ Email Tracking: Order status updates via email