Description
 COULD YOU STOP THIS HEAVY BLEEDING EFFICIENTLY AND QUICKLY?
The Israeli Trauma Bandage is an innovative, combat-proven first-aid device to stop serious bleeding from traumatic hemorrhage wounds in pre-hospital emergency situations.
This bandage is an ideal solution to help you treat heavy bleeding during a medical emergency and where every second counts.
ADVANTAGES
✅ Easy and Quick to Apply! Designed with the end-user in mind; for the first-aid trained and the lay care-giver.
✅ Pressure Applicator! Creating the immediate direct pressure to the wound site.
✅ Sterile Vacuum Packaging!
✅ Non-adherent Pad! Eliminating the risk of causing pain and having the wound re-opened upon removal of the bandage.
✅ Lightweight! Fits Perfectly in your First Aid Kit.
✅ Closure Bar! Enabling closure and fixation of the Emergency Bandage at any point.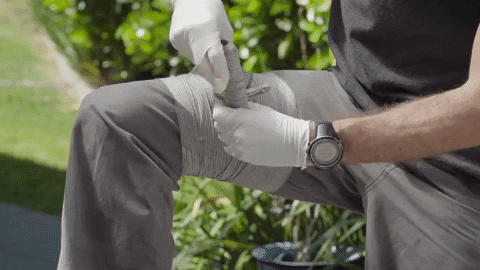 QUALITY & EFFECTIVE COMPRESSION BANDAGE
This Israeli bandage is sterile, the wound is compressed with a non-adherent pad. In addition, its pressure applicator (tightening handle system) allows additional pressure similar to a tourniquet and the bandage to be secured in place with a closure bar.
QUICK AND EASY APPLICATION ALL OVER THE BODY -

ISRAELI TRAUMA BANDAGE 
This Israeli compression bandage is so easy to use that even an injured person can apply the bandage on their own limb with just one hand. It can be placed on the limbs, chest, abdomen, head, or neck.
LIGHT, STERILE, EASY TO STORE IN YOUR KIT
This Israeli emergency dressing is individually wrapped in sterile vacuum packaging. It is easy to carry and store in your first aid kit.
WHO IS IT FOR?
This Israeli compression bandage is perfect for adventurers, climbers, the military, police and can easily be placed in a first aid kit. It is also the perfect tool for emergency responders and paramedics to use.
SPECIFICATIONS - ISRAELI TRAUMA BANDAGE

Width: 6 inches (15 cm wide), 4 inches (10 cm wide), 

Size: natural length 2 meters, stretch the length of 4 meters

Weight: 80g

Bandage: 80% cotton - 20% spandex

Gauze:

 

70% viscose - 30% cotton

Features: Breathable, comfortable, soft, elastic
CONTENT DETAILS
1x Emergency Israeli Trauma Bandage (sterile vacuum packaging)

HOT DEAL
🏷️ BUY 2 = GET 5% OFF
🏷️ BUY 3+ = GET 10% OFF
FREE GIFT
OUR GUARANTEE
✅ Estimated Delivery Time: 10-20 days.
✅ Money-Back Guarantee: You risk nothing.
✅ Invest in Quality: 99.3% of our clients recommend this product.
✅ Email Tracking: Order status updates via email.
delivery not long but not fast. The order was tracked. product ok
It arrived perfect and fast. good quality Thanks
Excellent product. Very good also comes sealed, another point is that It arrived in the estimated time, the package arrived without any problem, I recommend the seller. Reliable and Safe.
I think that this israeli bandage corresponds to the description